&nbsp

COMMUNITY
Current Partners and Projects: Balal Public Library, Ayuba Suleiman Diallo Education Center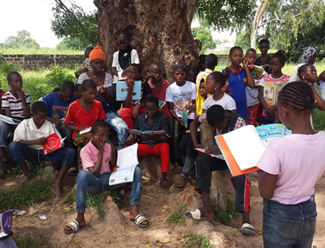 I initially reached out to Alhasan Bah after reading about him and his interest on a listing of Mandela Fellows. Since its start in 2014 by the Obama Administration, the Mandela Washington Fellowship for Young African Leaders has provided young leaders from Sub-Saharan Africa with the opportunity to hone their skills at a U.S. higher education institution with support for professional development after they return home.


2021
With international assistance, including that from the Port Of Harlem Gambian Education Partnership (POHGEP), the Balal Public Library, Ayuba Suleiman Diallo Education Center reopened in February.

The Balal library (In Fula, Bala, means help) closed while getting renovation assistance from the European Union (EU) Youth Empowerment Project. They used the window frames and fans POHGEP provided to create a better space by installing the glass in the frames and installing the fans. Through an emergency fund to fight COVID19, the U.S. government is providing the library internet service.

We provided 165 books.
2019
Balal Public Library, Ayuba Suleiman Diallo Education Center

Connect With the Port Of Harlem Gambian Education Partnership